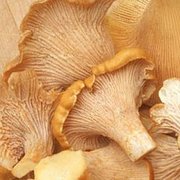 Chanterelle Mushroom, Dried
One of the world's most popular gourmet mushrooms, harvested right here on Mayim Farm!
The Audubon Guide to Wild Mushrooms notes that chanterelles are "the most prized wild mushroom in the world." Rightly so, as their fluted shape and bright orange color, aroma of apricots, and spicy, nutty flavor are a delight to all the senses.

Chanterelles blossom in our Southern Alabama farm's woods each June-August. They make a fabulous addition to sauces, or a companion or side dish with chicken or other meats. We love them simply sauteed with butter and garlic, in omelets, or even as a special gourmet topping for pizza!

Chanterelles are also loaded with betacarotene and thus highly nutritious!

Our Dried chanterelles, in 1 oz. packets, allow you to enjoy their sensational flavor all year long! The dried mushrooms will reconstitute in liquid; or mill them into a powder to use as you would a seasoning like paprika. In either form, they will powerfully communicate the incomparable chanterelle flavor!
1oz dried
Additional information...
Chanterelle Mushroom, Dried
Shipping Details
Fast shipping
We ship USPS daily from our location in Alabama. Most orders go out the next day.
Order tracking
On our checkout page you will see our new "Order Tracking" feature. Get up to date info on your order easily and quickly.
Get in touch
Have a question? Feel free to chat below or email us at info@mayimfarm.com