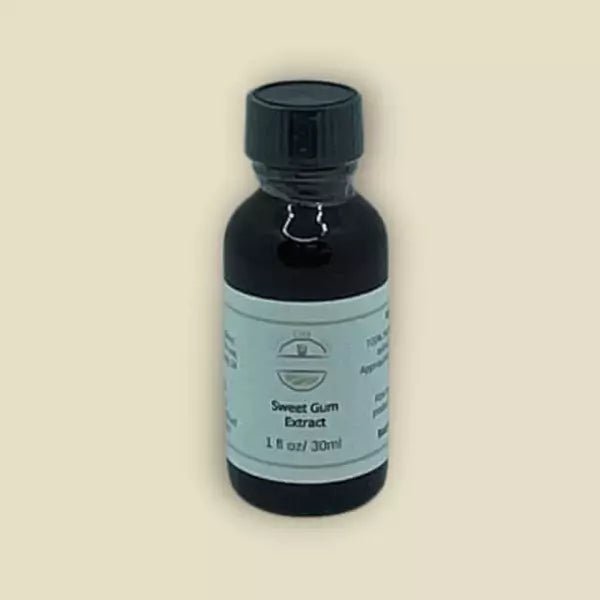 Description
Ingredients
More Info
Experience the power of nature with Sweetgum Ball Tincture!
Extracted from the green sweetgum balls of the sweetgum tree in the US, this tincture packs a major punch in terms of health benefits. Chewing gum made from sweetgum has been used for centuries for its medicinal properties, including reducing inflammation and stimulating digestion. Our Sweetgum Ball Tincture is no different.

With Sweetgum Ball Tincture, you can experience the power of nature in the form of a powerful health supplement. Our tincture is a potent combination of sweetgum extract, vegetable glycerin, and alcohol which can help to reduce inflammation and stimulate digestion, while also rejuvenating your body and mind. Plus, our tincture is safe to use, with no side effects.

Unlike other health supplements, Sweetgum Ball Tincture is easy to use. Just take a few drops under the tongue, on your tongue, or add to your favorite beverage before bedtime or in the morning. You can also mix it with various foods. With Sweetgum Ball Tincture, you can enjoy the benefits of sweetgum anytime and anywhere.

Experience the power of nature with Sweetgum Ball Tincture! Get the natural health benefits of sweetgum extract in an easy-to-use tincture that's safe, fast-acting, and free of side effects. Try our tincture today and join the many people who are discovering its powerful benefits.
Pure locally wild harvested sweet gum balls tinctured in Alcohol.
The sweet gum ball tree, also known as the Liquidambar styraciflua, is a deciduous tree native to North America that is known for its unique and hard resin-filled balls. These sweet gum balls, also known as "monkey balls," have long been used by indigenous people for various medicinal purposes. Today, the resin from sweet gum balls is used to create a natural remedy known as sweet gum tincture.

Sweet gum tincture is a concentrated liquid extract that is made from the resin of the sweet gum ball tree. It is believed to have several health benefits, including anti-viral properties and being a natural alternative to Tamiflu, a commonly prescribed anti-viral medication. The tincture is easy to use and can be added to water, tea, or juice for consumption.

The resin from sweet gum balls is rich in natural compounds such as terpenes and flavonoids, which are known for their anti-inflammatory and anti-viral properties. This makes sweet gum tincture a natural alternative to Tamiflu and other anti-viral medications.

Sweet gum tincture has also been studied for its potential to help with respiratory issues such as bronchitis and asthma. The natural compounds found in the resin are believed to help clear the airways and relieve breathing difficulties.

When looking to purchase sweet gum tincture, it is important to choose a product that is made from high-quality, pure sweet gum resin. It is also recommended to talk to a healthcare professional before using sweet gum tincture, especially if you have any pre-existing health conditions or are taking any medications.

In conclusion, sweet gum tincture is a natural remedy made from the resin of the sweet gum ball tree. It is believed to have anti-viral properties and can be used as a natural alternative to Tamiflu. If you're looking for a natural alternative to anti-viral medications, sweet gum tincture may be worth trying.

Disclaimer: The information presented herein by Mayim Farm is intended for educational purposes only. These statements have not been evaluated by the FDA and are not intended to diagnose, cure, treat or prevent disease. Individual results may vary, and before using any supplements, it is always advisable to consult with your own healthcare provider.